Moalboal offers you a once in a lifetime experience: a million of sardines just off the shore. Swimming with this giant school of fish is a very special experience that you don't want to miss out on.
The Moalboal Sardine Run does not move and can always be found in the Panagsama beach area, providing visitors with the opportunity to see this spectacle year-round. The schools tend to be between 2-15m/7-40ft – making it an enjoyable experience for scuba divers, freedivers and snorkelers alike. Many tourists travel to Moalboal specifically to this natural phenomenon, and our guests at The Blue Orchid resort are always blown away by the sardine run's sheer magnitude.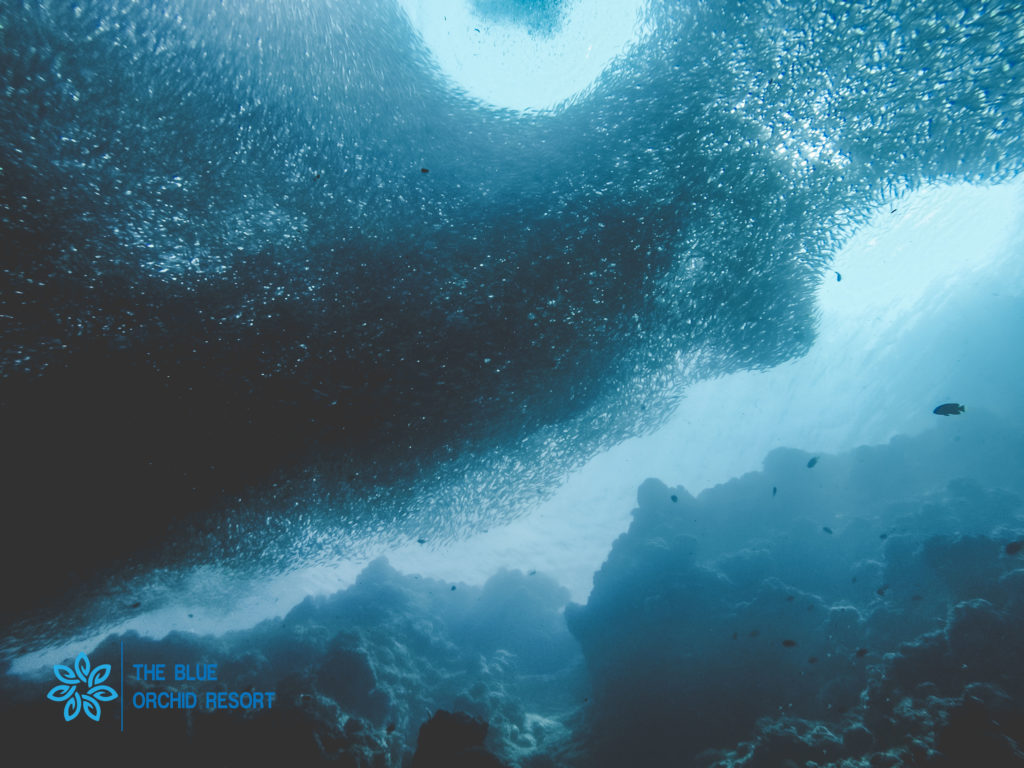 Swim, Freedive or Scuba dive with the Sardines in Moalboal?
Swimming/Snorkelling with the Sardines
Since the sardines in Moalboal stay close to the shore and in relatively shallow water, snorkelling with them is a great experience. You can see them below you from the surface and can reach them by simple duck diving.
Freediving with the Sardines
Freediving with the sardines in Moalboal is a wonderful experience. Diving down into the giant cloud of sardines without bubbles or equipment almost makes you feel like you are part of them. Whether you are a seasoned freediver or you want to learn how to freedive, the millions of sardines will make this dive unforgettable.
Scuba diving with the Sardines
Scuba diving with the Moalboal Sardine Run is another popular choice, and starts to give the diver a real sense of how big the school of sardines actually is! Being given a tank of air allows each scuba diver to become mesmerised by the wonderful shapes and patterns made by the sardines, plus the chance of seeing larger game fish such as trevally and tuna hunting. If you can peel your eyes away from the sardines for a minute or two, keep an eye out for cruising turtles and fun macro life such as pipefish and nudibranchs.
The dive is easy and suitable for all levels, since there is no need to go deep to see Moalboal's best attraction. In case of current, we just do a drift dive along with them and will get picked up by the boat at the end of the dive.
How to do it ?
From the Blue Orchid Resort, you can hop on our boat for our daily scuba & snorkelling trips. The sardine run is just a 15-minute boat ride from the resort and is a very popular from the activities on Cebu island amongst our guests, many of whom who have visited Cebu to see this spectacle.
An alternative option is to make your own way to snorkel with the sardines. We can arrange snorkelling gear and a tricycle to take you to Panagsama Beach (15-20 minutes). Once there, it is an easy walk off the shore from the famous Chili Bar, and a short swim to reach the sardines which reside at the reef drop-off – keep an eye out for turtles lazing in the shallows during your swim out!