There are 19 internationally recognized Moalboal dive sites with varying topography. A large number of these consists of steep wall dives, however there are some muck diving areas, one plane wreck and a few slow declining coral gardens. Most noticeable of the later type is the Ronda bay and marine sanctuary dives. You can find more information about some of our dive sites below.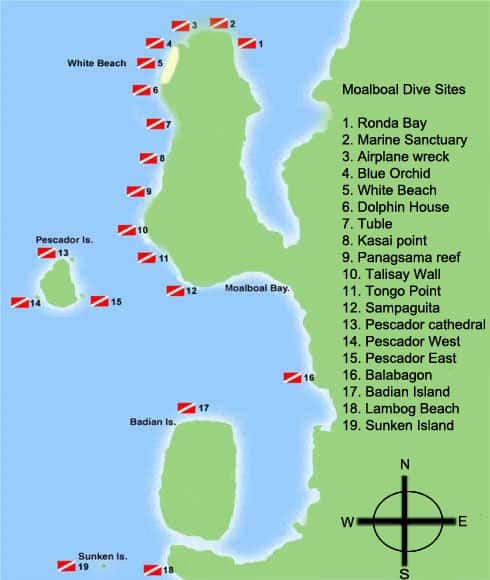 Blue Orchid (Our House Reef!)
This wall drop-off dive boasts a large variety of soft coral, along with tons of different reef fish making this one of the most colourful dives in the area. Also, huge gorgonians and sea fans. Clown fish, triggerfish, garden eels, and pelagic fish are commonly observed.
Visibility: 10-30m Depth Range: 5-30m
This site is the first marine protected area in Moalboal and is a favorite for coral and fish lovers alike, it extends all the way from Umbrella Point to right inside Ronda Bay. Here you may catch a glimse of an eagle ray. There is also colourful hard coral, soft coral, and sea pens. Gorgonians are a special feature here, some of them can reach up to 3 or 4 meters in height. A wide variety of different nudibranchs can also be found.
Visibility: 5-20m Depth Range: 3-25m
This dive is a steep slope with a wall. There are numerous canyons and small caves. Hard coral is dominant here. A large variety of nudibranchs can be observed, as well as squid, shrimpfish (razorfish), and whale sharks occasionally.
Visibility: 10-22m Depth Range: 7-20m
Pescador Island has become Moalboal Marine Park which is now a protected area. This small uninhabited island is only a 15 minute boat ride away from Cebu Island. This area has one of the most diverse hard coral in the world. Sea turtles, scorpionfish, frogfish and jacks are common at all Moalboal dive sites. From Dec. to March schools of hammerheads might be spotted at the northeast side at around 35-40m. Whale sharks are spotted south of the island.
Visibility: 5-30m Depth Range: 5-40m
This site offers caves and crevices with nudibranchs and sea snakes hiding among anemone, sponges, sea fans and black coral. Turtles are often spotted and sharks if you are lucky. Schools of squid can be seen in the open water. This dive is suitable for beginner to experienced divers.
Visibility: 5-20m Depth Range: 0-40m
This Moalboal dive site is a wall dive with soft coral, big fan coral, shells and anemones. Sea snakes, grouper can be seen. The most sightings of whale sharks in the area have occured at this dive sight, but your chances totally depend on luck.
Visibility: 5-20m Depth Range: 0-30m
Have a look at our diving packages which include Accommodation and diving.